Trevor Husband Native Art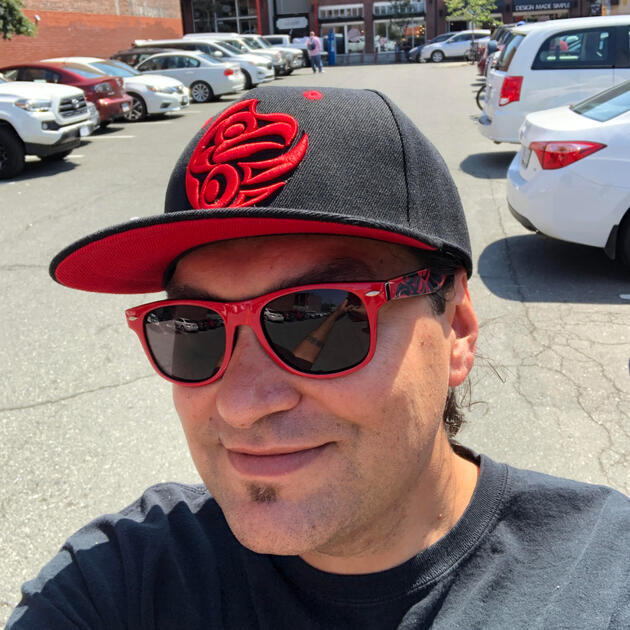 Artist Bio
Trevor was born and raised on Haida Gwaii. His mother's family is Cree from Sweetgrass, Saskatchewan, and French. His father's family is Gitxsan, English and Scottish. Trevor grew up fishing, hunting, camping, and enjoying being close to nature and in a tight knit community.

When Trevor was 18 he moved to Vancouver to focus on creative writing, and eventually turned his creative focus towards music. He played guitar, bass, and sang and rapped in many different bands, including hip hop, reggae, funk and rock groups. He was a songwriter in many of those projects. Acting was also something that he dabbled in.

After spending 15 years in Vancouver and starting a family, he settled in the Cowichan Valley and focused on visual art. He apprenticed under Coast Salish artist Herb Rice, learning the craft of wood carving, working on plaques and totems. After a couple of years Trevor started to develop his own style, and learned from his friends like Corey Bulpitt, and later on Ernie Swanson.
Trevor works with wood, mostly yellow and red cedar, making wall panels, paddles and totems; he works with Ruggid Coast to create metal sculpture; creates silkscreen prints, sometimes hand pulling them himself; and is the owner of Shot Hawk Clothing N Art.

A commitment to ceremony helps Trevor to maintain this connection to spirit, as well as staying connected to the land. He also works part-time as a youth worker at the Duncan Native Friendship Centre to stay connected with the Cowichan community and give back. He works teaching carving, working on hip hop with youth, and advocating/mentoring with high-risk youth.
Prints
"White Raven" Artist Proof's
Limited Edition of 15
20" x 20", silkscreen, white ink on black archival paper
$210
"White Raven" Remarque's
Limited Edition of 15
20" x 20", silkscreen, white ink on black archival paper, plus each print is uniquely painted by the artist
$280
Shipping $25 BC / $30 Canada
US and International please ask for quote
"Mother Bear"
Limited Edition of 66
11" x 14", silkscreen, hand pulled by the artist.
$100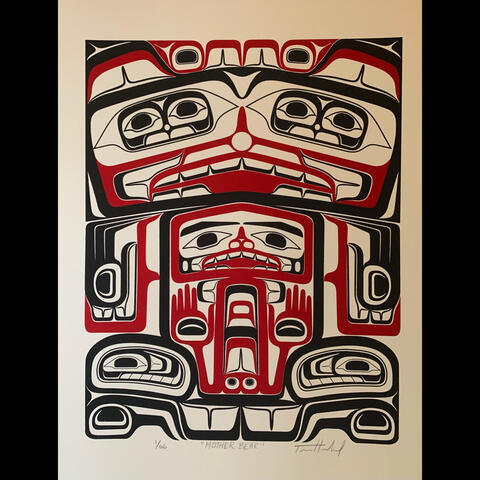 Contact
To Contact Trevor regarding commissions for:
-Wood carvings (Plaques, Panels, Paddles, Totem Poles)
-Graphic design
-Custom metal pieces
or questions about anything please fill out this form,
or contact at:
email: trevor.husband@gmail.com
cel: 250-815-5121
---